Top news is the Royal wedding of Prince William to Kate Middleton! If you haven't seen the pictures, take a look because the bride is breathtaking and the wedding was stunning! And have you seen that dress!?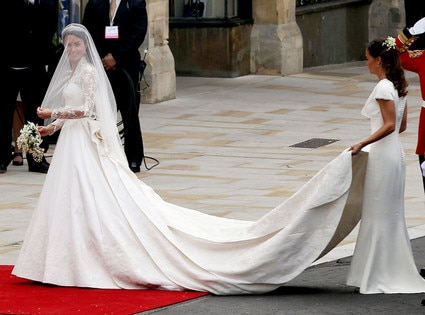 Dan Kitwood/Getty Images




Designer Sarah Burton has outdone herself with this beautiful Alexandra McQueen gown worn here by Kate. She looks absolutely ravishing! Those lace sleeves compliment the sweetheart shape perfectly and accent Kate's specs both modestly and tastefully while keeping us in awe of her natural beauty. Kudos Kate on a wonderful choice! Now maybe top it off with a Ju Ju Be and you're good to go!


Now how about some royal cake!? Hmmm.... I wonder if I can have some sent to me 2nd day air... YUM! Props to baker and cake designer
Fiona Cairns for creating this "sweets lovers" masterpiece! And hey, if there are any leftovers, I've got space in my fridge! Can we possibly add some
Stephen Joseph Stainless Steel bottles
with milk beside that cake?
Credit: John Stillwell/PA Wire
Those layers and details are the work of an artist and of course the young couple certainly deserves the best... well sign me up because "the best" looks not only gorgeous but pretty tasty!
Can't forget some of the Royal Family's guests! The celebrity spotlight shines bright on the expecting couple, David and Victoria Beckham.
Both sharply dressed, the couple turned heads and riled crowds as they approached Westminster Abbey this morning. Victoria, you are modestly gorgeous and when that bump is good and ready, we've got the expert mommy fans to help you choose the right
diaper bag
!
And lastly, the balcony kiss that sealed the deal in front of an entire nation.
We want to wish the happy couple a wonderful life and beautiful marriage together. And when the royal babies come along... the
Little Dudes and Divas
fans will be happy to share some awesome diaper bags tips and advice! WHOOP WHOOP to the happy couple!