The Ju Ju Be Legacy Collection Earth Leather MightyBe!



I got my Black EL MB Saturday and was SO excited to pack it! I am hoping to try it out as a diaper bag for our soon 2 under 2 kids. I haven't used it out and about yet, but am excited to see how it will function as a diaper bag for us. I have previously owned a Vera Bradley Diaper Bag and used it exclusively when DS was younger. I have also used a JJB BeTween and am currently carrying the JJB MiniBe. I have found it is really nice to be hands free with little ones!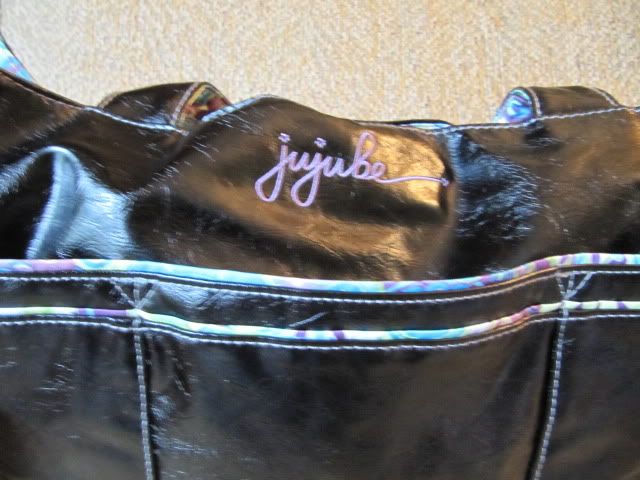 I will be using it as our main diaper bag for my DS, who is almost 21 months and DD is due mid-June

I love the interior, but do wish there was a bit more organization inside. I have to use a lot a Quicks to prevent the 'black hole' bag phenomenon. The exterior pockets are perfect for my FV zip wallet, sippie cup, and snacks. Currently, I usually carry a Quick with diapers/wipes, FV zip wallet, germ wipes, checkbook, sunglasses, a few packets of dried fruit, juice box, sippie cup, JJB mess shuttle, iPhone, JJb coin pouch with Tylenol, and a JJB medium set with coupons or a coupon organizer. So far, the MB fits all of this and there is so much room for more...which will be perfect with another little one on the way!
I heard about this bag through the Spring Reveals in the Ju-Ju-Be Pink Room forum. The forum is a great online community and all the hype and talk of the new Legacy Collection convinced me to go for it!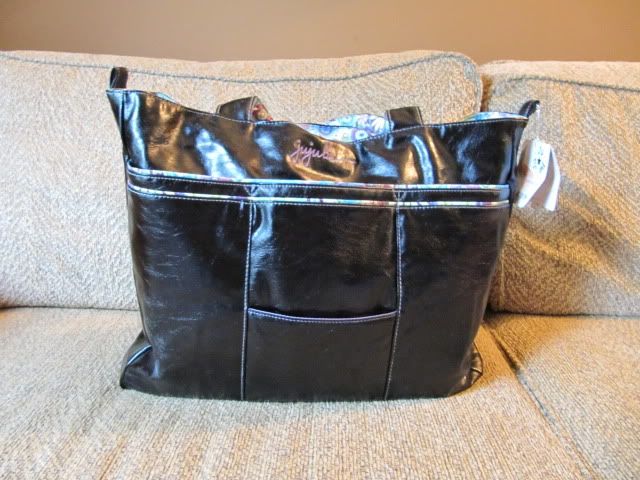 .......The Legacy Collection has been an exciting JJB release for me as I was always craving a more classy, but still fun bag to carry.......



The Earth Leather looks great and is very soft. It has a bit more shine than I prefer, but the material will wear really wear over time. The most exciting feature about the Earth Leather is its washability! JJB guides you every step of the way on how to machine wash their products...http://www.ju-ju-be.com/PinkRoom2/viewtopic.php?f=30&t=5931. A very comforting feature for a mom!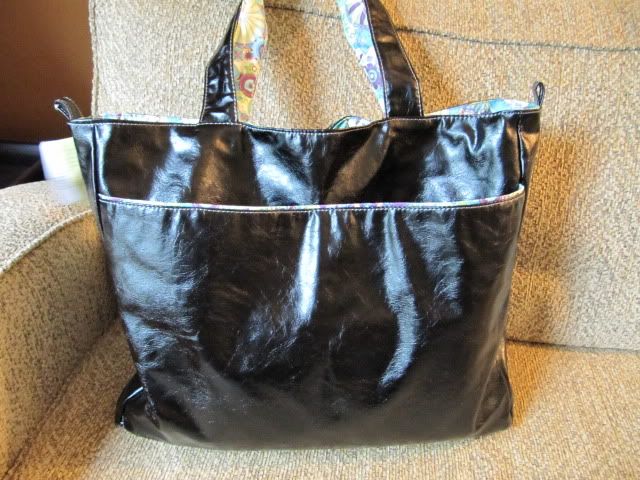 The lining is the thinner JJB material and at first I was a bit put off by the Dizzy Daisy print. I have become a lot more fond of the print and love that it is accented by lilac lining in the pockets. The bag was a little stinky (like factory synthetic stink) when I opened it. After only a few hours of sitting in my kitchen, it no longer is as strong. It's gorgeous!
.......I plan to use it on our new Baby Jogger City Mini Double stroller with JJB stroller hooks.......


I am wanting to add some D-rings to the stroller tabs for a bit more stability and ease of use. It sags a bit on the stroller if packed heavily, but works really well with the size of the side-by-side double.
I have not had the bag long since the line was just released, but DS and DH already really like the look of the bag.



..........DH has said he wouldn't mind holding it every now and then

...........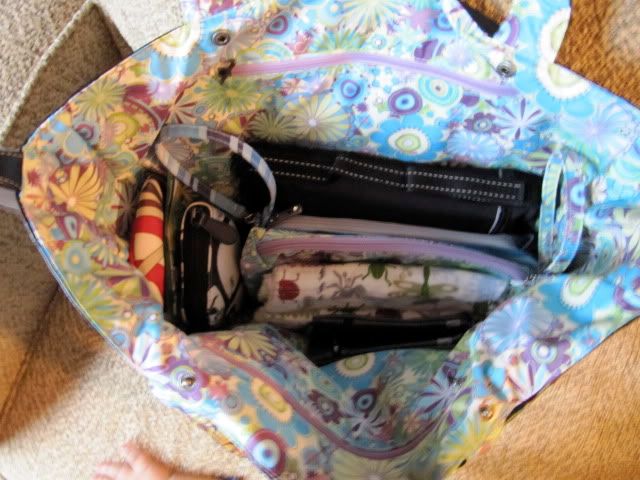 Here are more details...

Exterior:
This bag is huge, but not so monstrous that it is unmanageable
One large back pocket...holds my VB change pad with tons of room for coloring books, papers, etc
3 pockets across the front held juice boxes, wipes, or small snacks perfectly
1 smaller pocket on the front...perfect for my iPhone!
Inside:
2 interior zip pockets...perfect for items you don't want your LO getting to...checkbook, etc
Very roomy!! I fit 2 Quicks, med set, Munchkin folding change pad, FV Zip Wallet, JJB Mess Shuttle, and bib. There is tons of extra room for a change of clothes, toys, etc.
What I wish was different:
I wish it had a bit more structure. It tends to tip if there is not a good base of Quicks, etc
I would love interior mesh or fabric pockets for sippie cups, sunscreen, sunglasses, etc
I am hoping to add a few D-rings on the stroller tabs to make it a bit easier to clip to the stroller
A messenger strap or slightly longer tote straps would be ideal for me as well.
A zipper would top it off for me! For the price though, the quality is amazing!!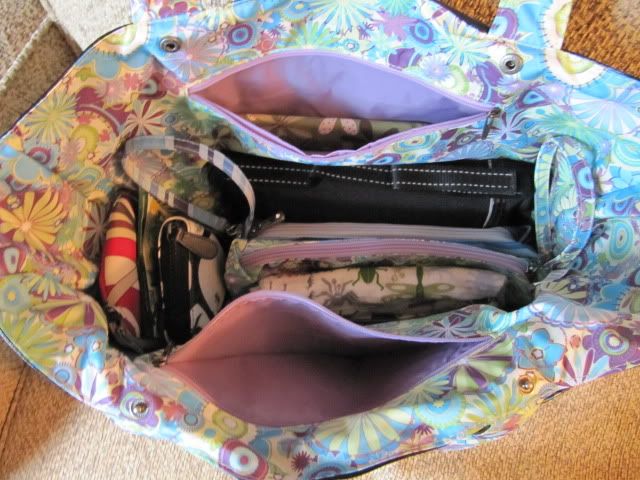 ........Overall: I LOVE IT!..........



I really like the classy, but fun look for a diaper or all-purpose bag. I also love that the MB will be great for other occasions if our needs change. Library bag, pool bag, emergency stash of necessary items in the car...the possibilities are endless!