I've only just received my Ju Ju BE Be Mine this past week, and I totally LOVE it!! It's replaced my regular wallet, which I used to cram too full, and almost broke the zippers more than once

I've probably gone through 15 wallets, but this one I'm hoping to be one that really lasts, it's great quality and it fits everything in a nice compact way!!
I can fit my cell phone, Drivers license, bank card, cc's, loyalty cards, library card, cash and change, chap stick, the pen, a pack of gum, travel sized container of Motrin/Tylenol and a travel pack of Kleenex in it, I can clip also on a hand sanitizer spray...everything I need to head out with my 4 older kids who are 2-13 and all potty trained! So I take it EVERYWHERE with me!!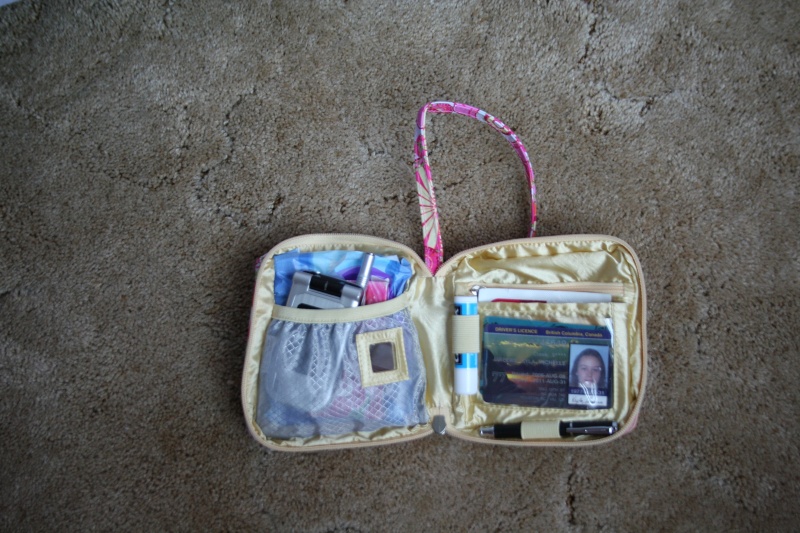 I love how it's got so many different pockets and the lipstick holder(MY chap stick holder) so everything stays in its place when it's opened! I also love that it has two different options for straps, because sometimes I prefer to just wear it across my chest! My least favorite feature about it is that I've fallen in love with the print, and now want bigger bags to match!!! I don't have a great stroller it's an old Graco, but this bag is great b/c I can hang it off the stroller handle, put it into the basket, or carry it easily! Everyone loves my mine!! My daughters who are 6 & 7 both want one of their own, and have fought over it to the point I thought for sure it would break, but the Ju-Ju-Be held strong and is fine!! My 2 year old son used it to wipe the ketchup off his face when we had a weiny roast and it just wiped right off of the mine!! How wonderful to find a product that is so easy to care for! I heard about the JJB Be Mine from a friend who saw me fiddling with my wallet while trying to hold onto my keys and cell at the store one day! She showed me her's and I was sold!!!
If you're like me and need to always be prepared, this is the right wallet/bag for you!!





Thanks for the GREAT review!
And good luck!